Primero que nada
, este conteo no pretende de ninguna manera ser algo serio ni tampoco gracioso, es el simple ocio de tener un conteo de este tipo en la página, ya que no todos los gays somos de un color o de un sabor; todos tenemos distintas aficiones y todas son validas mientras no lastimene a alguien, ya sean deportes, estudios, arte, gadgets o
videojuegos
.
En esta ocasión checaremos a veinte personajes que tienen cierta tendencia gay, ya sea por su actitud, su relación con otros personajes o con los burdos clichés que se le atañen a la comunidad homosexual. También hemos tomado en cuenta la ambigüedad de apariencias y orientación, así como el nulo interés de algunos en el sexo opuesto.
Cabe recalcar que la mayoría de estos no son oficialmente gays, y que incluso algunos son lo contrario; pero eso no nos detiene de echar a volar la imaginación y divertirnos un poco.
Y empezamos con el número 20 y es...
20. Ike
(Fire Emblem / Nintendo)

Ike es un personaje relativamente nuevo en la industria, así que probablemente no muchos lo conozcan pero definitivamente su fama crecerá con los juegos que están por venir además de que hace aparición en el hit Super Smash Brothers Brawl. La razón por la que aparece aquí es porque en su juego, muchas de las damas (claramente) quieren con él pero el rechaza a todas sin inmutarse, sin embargo tiene una linda relación con muchacho medio femenino llamado Soren, quien llora en sus brazos y defiende a muerte.
Veredicto:
Probablemente no gay, pero sí da aires. Además, sería un gay diferente a los que nos quieren acostumbrar ;)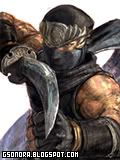 19. Ryu Hayabusa
(Ninja Gaiden / Tecmo)
¿Qué? ¿Cómo este ninja tan varonil puede llegar a ser considerado gay? Bueno, y es que Ryu no da muchas razones para pensar que lo sea... aunque nunca muestra un interés por alguna chica y las trata como cualquier cosa. Además, al final de uno de sus juegos, cuando la sexy muchacha le pregunta hacia donde se dirige, este sólo se transforma en una lucecita de colores y se va con el viento ¿un poco gay, eh?
Veredicto:
Un poco y... sexy :)
18. Sephiroth
(Final Fantasy / Enix)

Algunos bugas podrían decir indignados "Nooooo, Sephiroth es muy poderoso como para ser gay" lo cual es un tanto estúpido pero miren: este hombre tiene un look medio androgineo y no muestra ningún interés real en alguna chica, además sus toques refinados lo hacen ver un poco amanerado en ocasiones.
Veredicto:
Probablemente no.
17. Captain Falcon
(F-Zero / Nintendo)
Lo sé, Captain Falcon parece a simple vista la imagen del hombre macho hecha corredor de autos de carreras en videojuego (uff) pero la verdad es que esas ropas tan entalladas no lo ayudan en mucho; por lo visto le encanta lucir el cuerpo y sus diálogos en Smash Melee no ayudan mucho... quiero decir "show me your moves" no suena muy heterosexual si se lo dices a otro hombre. Además... sus poses... hacen dudar.
Veredicto:
Tal vez, sólo un poco coqueto.
16. Samus
(Metroid / Nintendo)
Ok, esto es un poco divertido. Algunos dirán "¿Cómo ese robot puede ser gay?" jaja, sí, pasa. Muchas personas no saben que Samus es en realidad una chica; sí, una que nunca da muestra de feminidad; sólo tuvo un amor que ahora es una computadora (qué extraño ¿verdad?) pero bueno, queríamos integrar a una dama en el conteo y esta que siempre es confundida con un hombre tiene bien ganada su posición. (¿Acaso no sería genial verla llegar a su casa, quitarse su casco, sacar su rubia cabellera y oírla decir: Hola linda)
Veredicto:
Probablemente sólo se quede en nuestras fantasías. En la lista por accidente.
15. Dante
(Devil May Cry / Capcom)
El primer personaje de Capcom en la lista se ha ganado su puesto por su look tan metrosexual por no decirlo androginero. Tampoco muestra empatía por muchas chicas que digamos y no sabemos en que consiste su estilo de moda pero se tapa los pechos con una extraña cinta roja. Cabe mencionar que bueno, los estándares de virilidad en Japón son muy distintos a los de occidente, lo cual se aplica a muchos otros personajes de la lista.
Veredicto:
Metrosexual rima con homosexual.
14. Kirby
(Kirby / Nintendo)
Es rosa, feliz, delicado, suavecito, vive para soñar, su boca se traga todo, viaja en estrellitas y arcoiris... ¿necesito decir más? Bueno, es que no tiene ningún tipo de pareja...
Veredicto:
Inocencia asexual.
13. Flea
(Chrono Trigger / Square)
Aunque no lo crean, el dibujito ese es hombre; sí, tiene bubis ¿Por qué? Le gusta tener esa apariencia, en el juego se dice abiertamente que es hombre y TAMBIÉN que le gustan. Así que probablemente ya tenemos al primer gay/travesti oficial en la lista. Supongo que sus ataques como El Rayo de Arcoiris y el Beso de Corazones no ayudan mucho a contribuir una imagen bien machota ¿no?
Veredicto:
Totalmente fuera del clóset.
12. Amakusa
(Samurai Shodown / SNK)
Probablemente, él sea el más desconocido de la lista, pero algunos fans de arcade o el Super Nintendo lo podrán recordar porque era el último rival en el juego, además de ser increíblemente fuerte, todo un reto vencerlo. ¿Qué podemos decir de él? Bueno, es MUY femenino, se ríe como anciana pudiente, lleva una bola de cristal que sujeta con su fino manicura, amanerado, rasgos finos, vestimenta de doña retirada y adinerada.
Veredicto:
Poderosamente gay.
11. Voldo
(Soul Calibur / Namco)
Bien bien, yo sé, Voldo a simple vista parece ser muy perturbante... y en el juego es aún peor. Sus movimientos son muy femeninos, aunque violentos; no siente empatía alguna por las mujeres y sinceramente su vestimenta está muy rara; parece gay sadomasoquista, ¡miren todo el cuero que lo rodea!
Veredicto:
Look at the package.
10. Don Flamenco
(Punch Out / Nintendo)
Jaja, éste es muy divertido... tal vez muchos de los más viejos nos acordemos de este, uno de los primeros "gays" en la industria de los videojuegos. Es del jueguito para el Nintendo original de box. Bien, tiene una ferviente admiración por el flamenco y tiene varias frases raras como "Referí, te ves muy guapo" xD
Veredicto:
Muy divertido. ¿Primer gay pseudo-oficial en la industria?
09. Tails
(Sonic / Sega)
Este pequeño zorrito que alguna vez pensé era una niña resulta ser macho, aunque nunca se le vincule sentimentalmente con alguna fémina. Su voz es irritantemente chillona que hace poner su orientación en duda, además, siente una ferviente admiración por su compañero erizo, Sonic.
Veredicto:
Lindo; pero no, no lo quiero creer.
08. Toad
(Mario / Nintendo)
¡AGH! Una de las cosas más molestas que haya pisado la historia de los videojuegos. Éste molesto y mariquita honguito (como se le conoce en México popularmente) te hace la vida imposible en los juegos de Mario Party; además de tener la voz más chillona del mundo... aunque, jajaja, a decir verdad disfruto mucho golpéandolo en Mario Kart y cosas así... ah, y casi lo olvidaba, cada vez que pasabas un castillo con Mario en el juego original, este fastidioso ser se encargaba de decirte "Oh no! La princesita ha sido raptada a otro castillo" ¡Ash!
Veredicto:
Molestamente gay.
07. Zangief
(Street Fighter / Capcom)
Wuajaja ¿a que muchos no se esperaban encontrar a este ruso en la lista? Si si, se ve muy machote; pero ¿no les da un aire a el típico deseable
bear
? ¿Verdad? Y bien, que nunca se quite ese provocativo speedo sólo le atañe más puntos; por si fuera poco, creo que en uno de sus juegos leí en un perfil personal que decía que le molestaban las jovencitas bonitas ¿cómo cómo?
Veredicto:
Bear.
06. Birdo
(Mario / Nintendo)
¿Hmm? ¿Birdo? Aunque tal vez muchos no lo recuerden, él hizo aparición por primera vez en el juego del primer Nintendo, Super Mario Bros 2. En el instructivo que venía con el juego decía algo así como "Él se cree una ella, dispara huevos por la boca y preferiría ser llamado Birdetta" ... muy explícito, ¿verdad? Sin embargo, entre más popular se hizo Nintendo en occidente, trató de cambiar las cosas y ahora la tratan como una "ella" lo cual nos otorga al primer personaje oficialmente transexual en la historia de los videojuegos :D ¡yay! Además, ese anillo travestoso no le ayuda mucho a nuestr@ pequeñ@ amig@.
Veredicto:
¡Tranny!
05. Vega
(Street Fighter / Capcom)
¿A que muchos si se acuerdan de este? Sí, este españolito es el único que nos puede hablar en nuestro idioma en la lista. Nuestro delicado personaje siempre lleva su máscara para proteger su hermoso rostro mientras ataca con unas garras de gata con sus grititos de mujer en parto. Woop, además, sus frases de derrota... "Oh no, mi bello rostro, lo has arruinado" Tarán.
Veredicto:
Muy muy.
04. Link
(The Legend Of Zelda / Nintendo)
Personalmente, mi personaje favorito de la lista. Una de las estrellas más grandes no sólo de Nintendo sino de la industria de los videojuegos hace aparición en esta ñoñamente polémica lista ¡Oh, Dios! ¡Sí! Y bien, al principio a Link se le vinculaba románticamente con la Princesa Zelda, pero cada juego que pasa rompen más con esa relación carnal para transformarla en algo más divino y asexual. Bien, otro factor muy importante es que en el juegazo Ocarina Of Time... Link se ve hasta cierto punto atraído por un ninja de nombre Sheik; al parecer en verdad le gusta... sólo que al final ocurre el inconveniente en el que descubren que en realidad es mujer (¿Y nuestro protagonista parecer perder interés? jaja) bien bien, además... lo parodian en La Casa de los Dibujos como Xander, el personaje gay de la casa... y para rematar con el pobre, su versión en el juego para CDI es grotescamente androginea.
Veredicto:
Ya ni él sabe.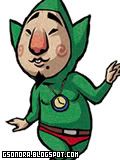 03. Tingle
(The Legend of Zelda / Nintendo)
Este curioso y raro personaje hizo su primera aparición en el juego de Majora's Mask. ¿Qué podemos contar de él? Bueno, tiene más de 30 años y su sueño es convertirse en un hada, así que se amarra unos globos a la cintura y vuela por la ciudad vendiendo mapas para hacer su operación transexu... digo, para hacerse hada ¿Eh? ¿No va así? Bueno, el caso es que cada juego se hace más delicado y flamante, sin mencionar que en el juego de Four Swords tiene su propia isla llamada "La Isla del Rubí Rosado" ¿huh?
Veredicto:
Quiere-ser-una-hada.
02. Luigi
(Mario / Nintendo)
Oh, sí, sí, sí. Personalmente éste era mi favorito para ser el número uno pero me reprimí porque me di cuenta que era nomás por andar montado en mis ideas... ¡pero es que Luigay está cada día más y más gay! El hermanito menor de Mario, su más famoso y querido hermano, está en la lista por su cada vez más notoria pluma en los juegos. Desde Mario Party 2 en el Nintendo 62, Luigi se ha hecho más extravagante en sus formas de expresarse, cada vez es más nena y su juego de Luigi's Mansion lo hizo quedar como un cobarde. Además, en los juegos de Smash tiene una fijación por golpear con su trasero o correr dando manazos... ugh ó_ò jaja, en el nuevo Smash Brawl su poder especial es una danza muy extraña y colorida que marea a los enemigos mientras el se mueve como odalisca... jaja, es muy cómico xD Ultimamente me he puesto a pensar seriamente que Nintendo está totalmente consciente del carácter de Luigi y lo está usando para invitar a la diversidad sexual al mundo de los videojuegos, lo cual no estaría nada mal.
Veredicto:
Cada vez más gay. Sigue esforzándote y pronto serás el número uno.
01. Benimaru
(King of Fighters / SNK)
¡Tan-tararan-tan-taaaan! Llegamos al final de la lista y Benimaru es el ganador del primer puesto... ¿Por qué? Míralo con atención... ¿Ya? Ahí está. Este joven jamás ha tenido ninguna aventura con alguna mujer en el juego y se le vincula con más de un hombre... según los jariosos fans. Pero bueno, miren su ropa, su peinado y sus frases de victoria, que vendrían siendo cosas como "Mi poder excede mi belleza" ¿Heh? Además, sus ataques eléctricos y su forma de bailar son muuuuy de ambiente, es el gran cliché. Además, todo niño mexicano normal lo conoce gracias a que esta serie fue muy popular en el terreno de "las maquinitas" (arcade) tanto así que entre los chamaquitos comunmente le dicen "el joto" Hmmm... y bien, a los productores del juego se les ha preguntado sobre la orientación del personaje, a lo cual sólo responden "Es un tanto ambiguo, aunque no tiene nada de malo" jaja. ¿Oficial?
Veredicto:
Nuestro chico.
Bien, espero que les haya gustado el conteo y hayan pasado un buen rato de ocio leyéndolo, me gustaría saber sus comentarios y... bien, estoy consciente de que se me han pasado bastante pero la verdad no sé tanto de videojuegos y traté de poner personajes que sean un tanto populares y conocidos en México para no hacer la lista muy burda y geek.

Así que... ¡A agitar esas palancas!